Hello girls!!
Been wanting to share this for quite some time now!
As you can tell from the title,
):
I was really excited when i saw the exterior packaging
till i opened it up and BAMMM! It was so obvious it was a fake.
In case you are wondering,
i got it from a facebook seller (not gonna reveal anytime though!)
who claimed it was authentic and that's why i bought it.
It was $53 instead of sephora selling it at $80.
I brought the palette down to sephora and yup it was a dupe.
I decided to get the authentic one anyway!
The regretful moment when you get a fake
with pretty colours but terrible quality....
because there's really no guarantee that purchasing it from elsewhere
would be authentic even though they claim so...
The fraud who repacked the fraud packaging really deserves a...
thumbs up? I mean it really looks too similar to the exact packaging.
Fake ud naked palettes could be easily spotted in the past
with their copper-gold packaging with only the palette
and tell tale sign "without primer potion" on ebay.
Like this: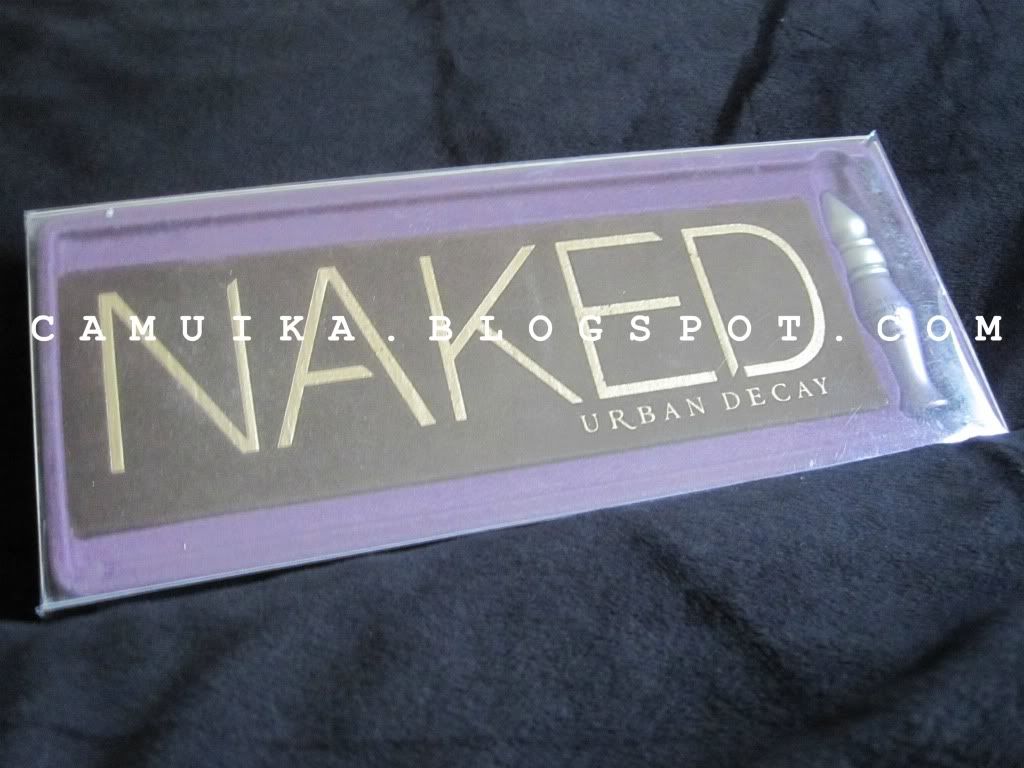 Pretty amazing eh!
Exterior packaging alone looks 99% similar to the real one at first sight....
Back is also similar!
However, there are differences in the packaging,
but if most of you girls out there don't have the original
and you're doubting your palette, here's for you!
Fake UD palette packaging is printed on more brown cardboard,
Real ud's cardboard is more copper.
I would recommend you girls to check
your palettes under sunlight,
with a camera to properly capture the colour!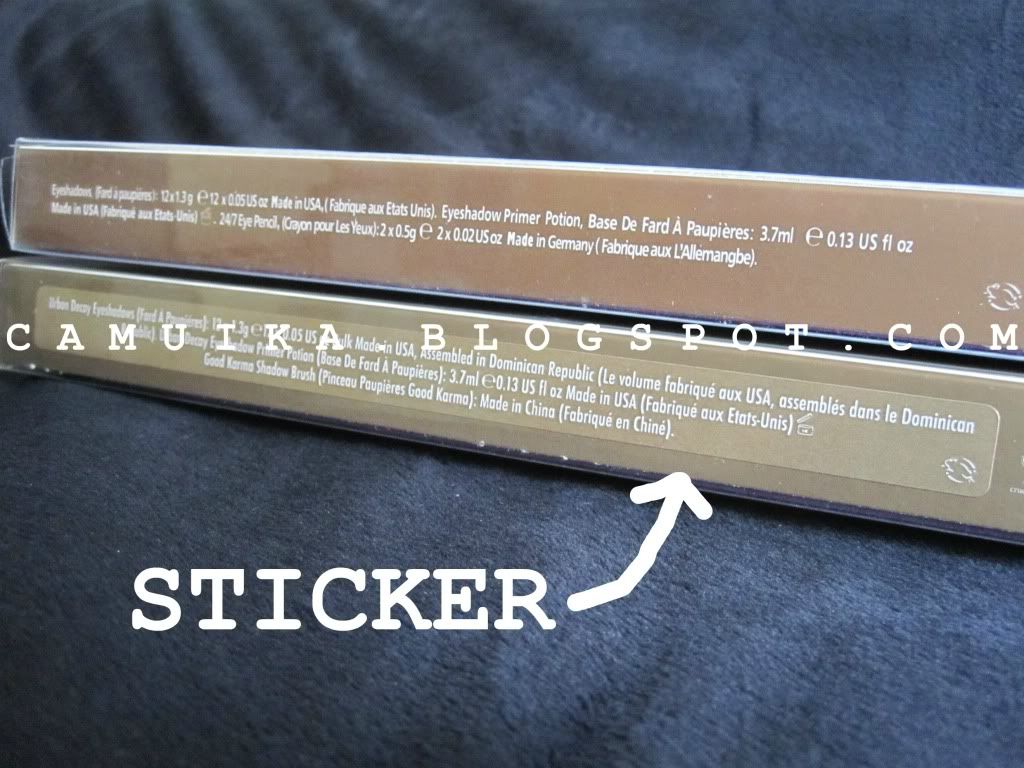 Fake UD's description printed on,
Real UD with sticker.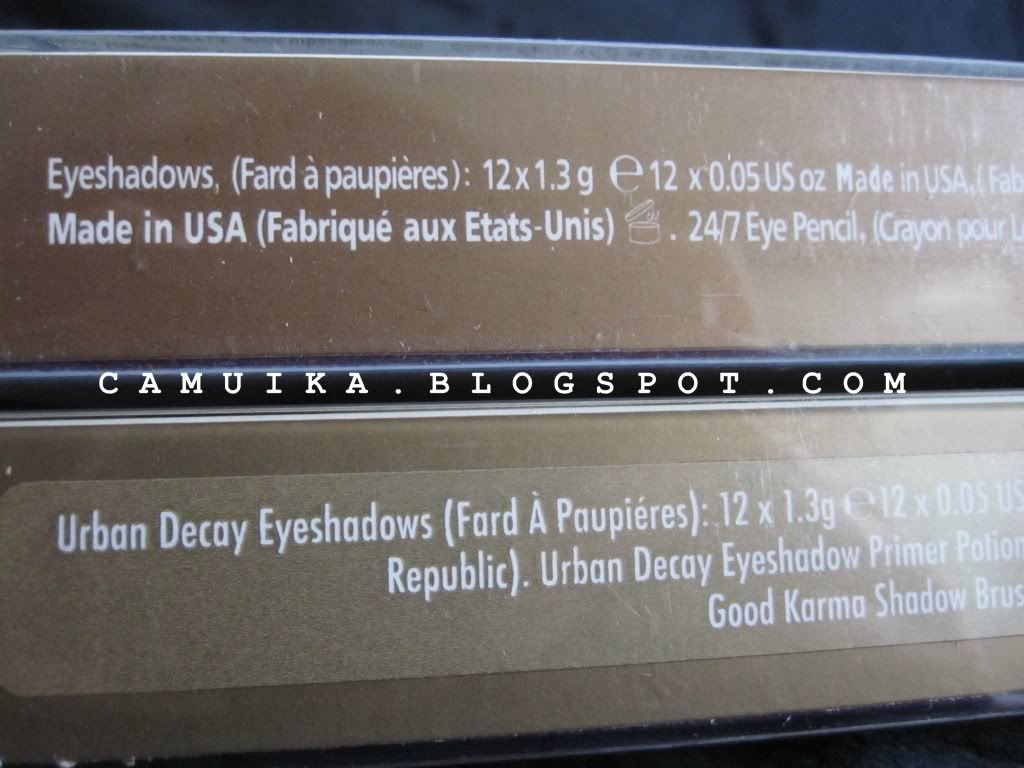 They also state different things.
As you open up your packaging,
the real UD should have a flap by the side.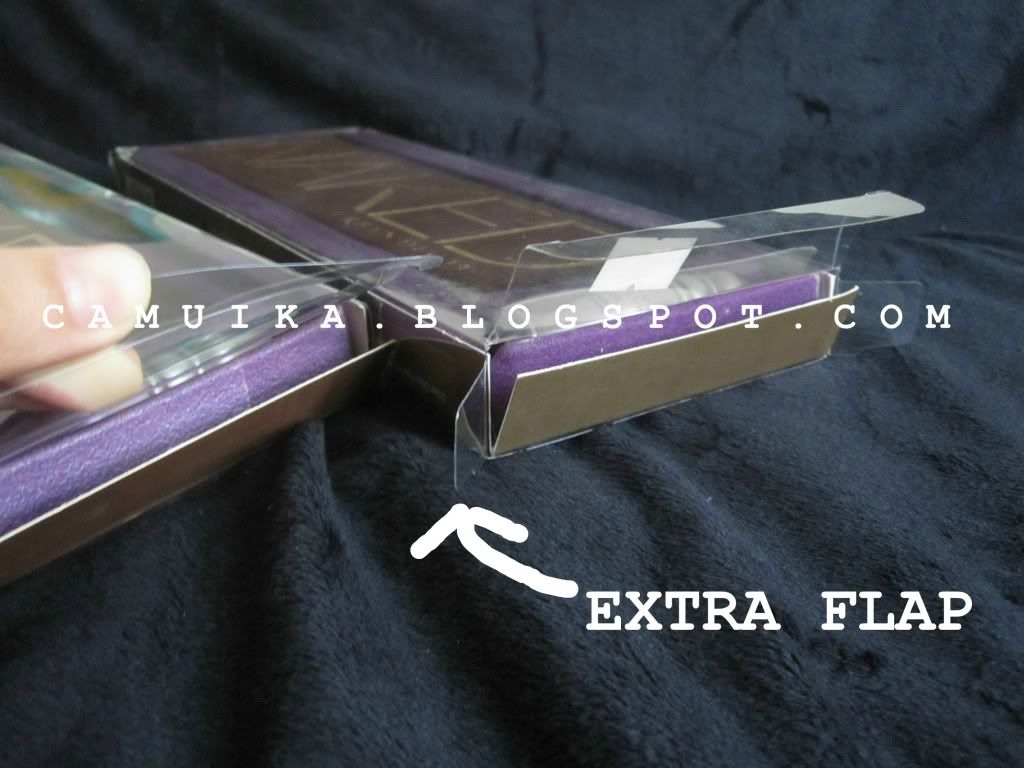 Real UD's plastic is also more flexible,
fake UD's plastic is harder and more sturdy.
It requires strength to make it stand.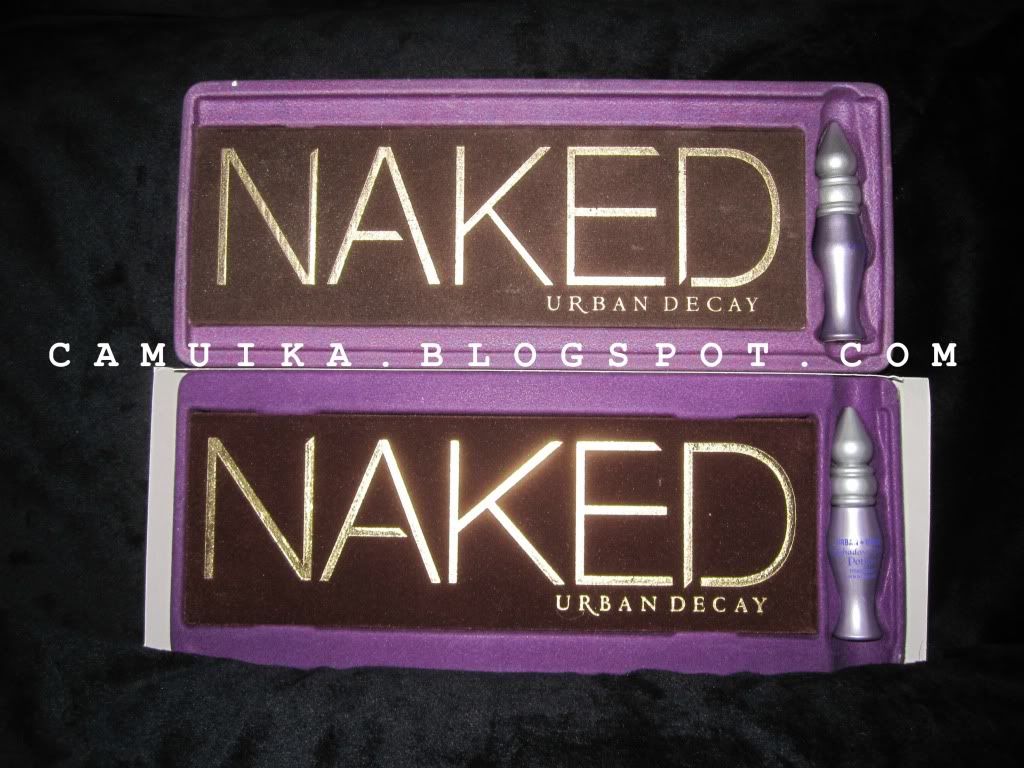 Obvious shades of colour difference in the purple tray.
Fake UD's purple tray is more faded,
Real UD is more rich and royal.
Difference is very obvious from the back.
The gap for the real UD's primer potion is opened,
fake UD's tray is closed.
On to the fake primer potion:
However, this does not apply to the tube primer potion
from Urban Decay that i also have :)
It isn't obvious, but the fake UD primer potion
seems a little bit fatter.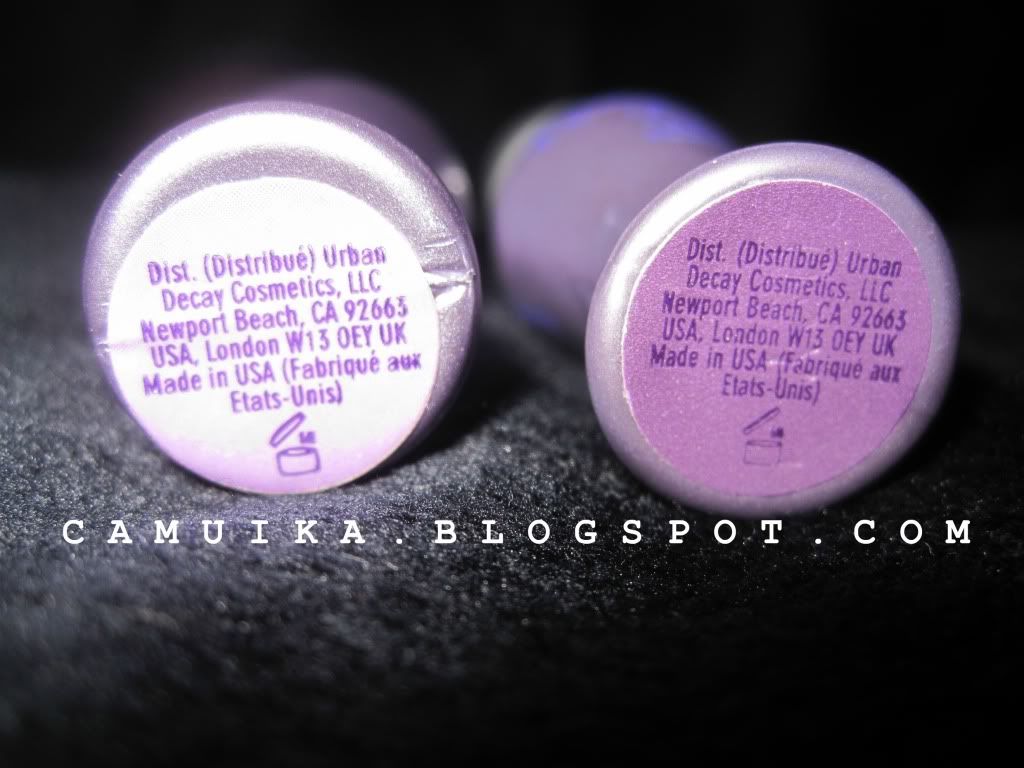 Sticker for the real ud primer potion
is also a richer purple.
You can do this test using flash from your camera!
Fake ud's bottle is more shimmery
while the real one is actually more matte :)
Real UD's screw/cap portion is white,
while the fake one is in purple.
A very obvious tell tale sign.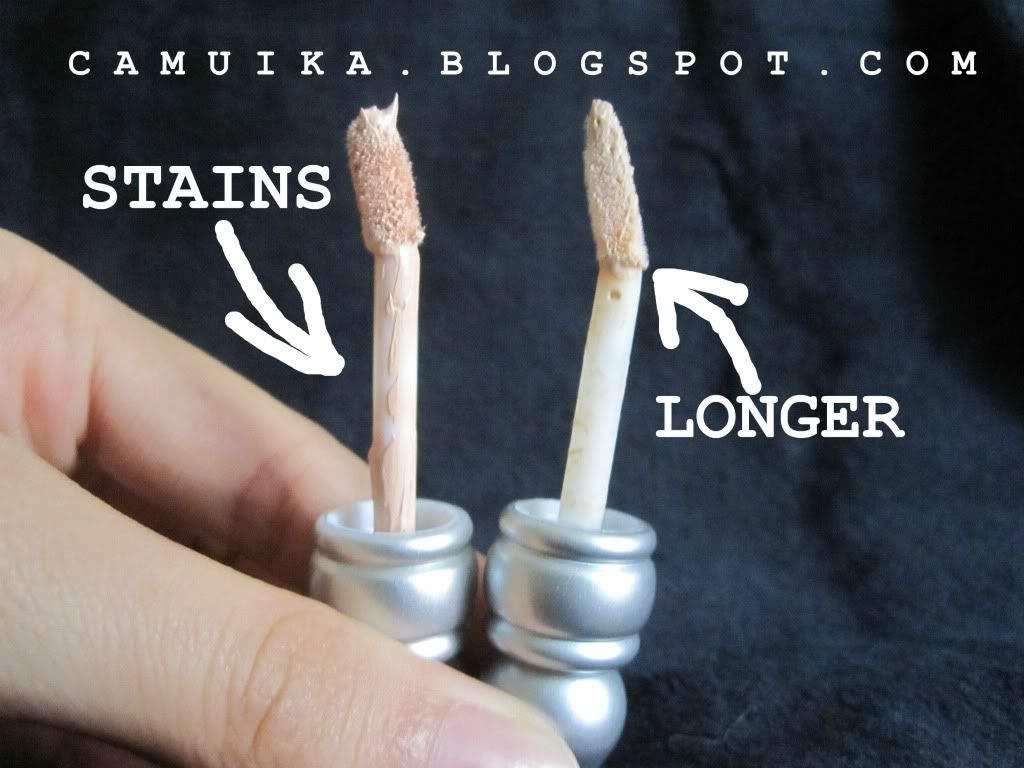 Fake primer potion leaves stains on the wand,
while the real one leaves almost nothing.
The real UD wand applicator portion
is also longer and slightly thinner than the fake's.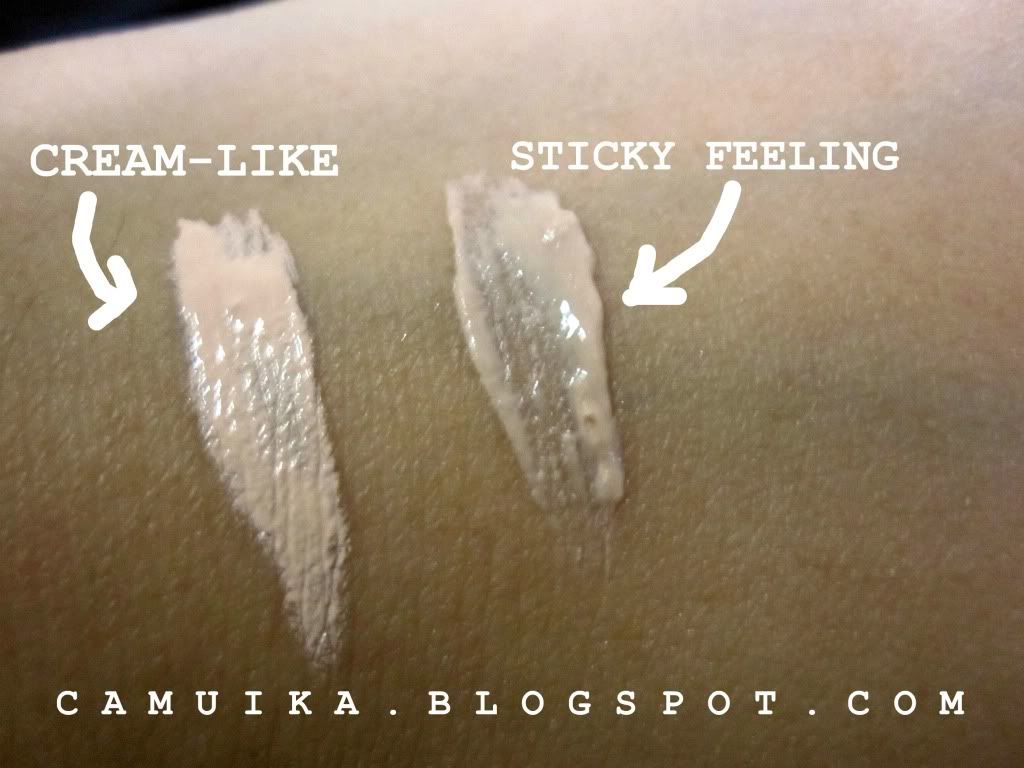 The fake UD primer potion goes on pretty smooth, like cream.
It feels more thin (watery) than the real one,
which has a slight sticky feeling
you may feel is difficult to apply.
Real UD primer potion blends a lot better.
And smoother. Fake UD is more "patchy".
On to the palette itself! :)
Sorry if it's too long winded hehe.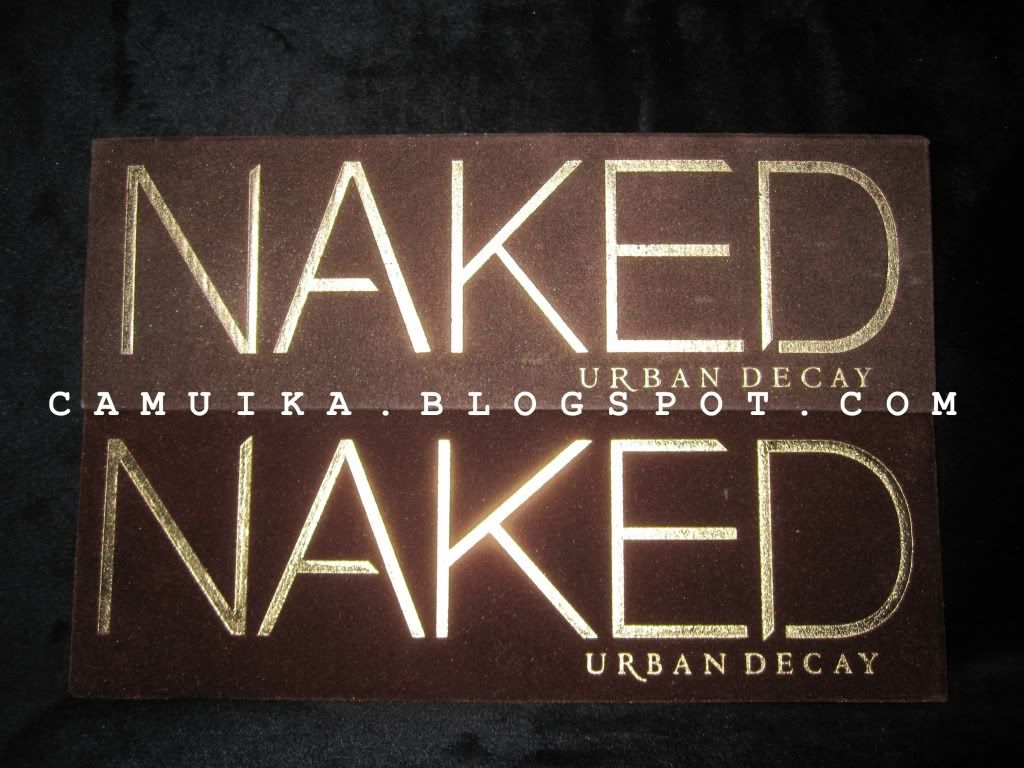 Again, colour of the fake ud palette is more of a faded brown.
Real UD is darker, and the velvet is also smoother.
I'm sorry there's no way i can let you girls feel!
Difference is again more obvious from the back.
Real UD's palette description is also a sticker,
but the fake's is printed on.
Very slight difference in size.
Here you can see better the real UD palette is broader by a little.
Most obvious tell tale sign:
SERIAL NUMBERS AT THE SIDE!
I've also noticed that the printing of "Urban Decay"
for the fake ones tend to be a little off centre,
more to the downside.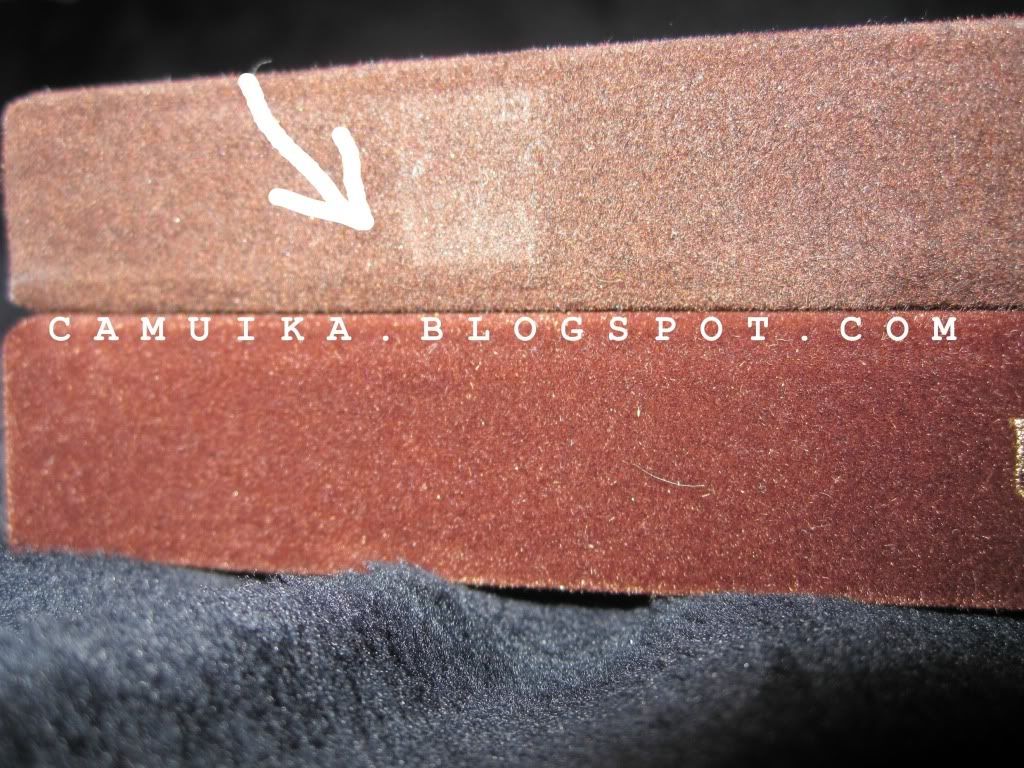 Fake UD palettes have a little square
thingy next to the printing.
Maybe a magnet.
This is hard to explain, but fake UD palettes's are harder to "slide across",
while real UD is much smoother.
Here's some gifs:
To the inside: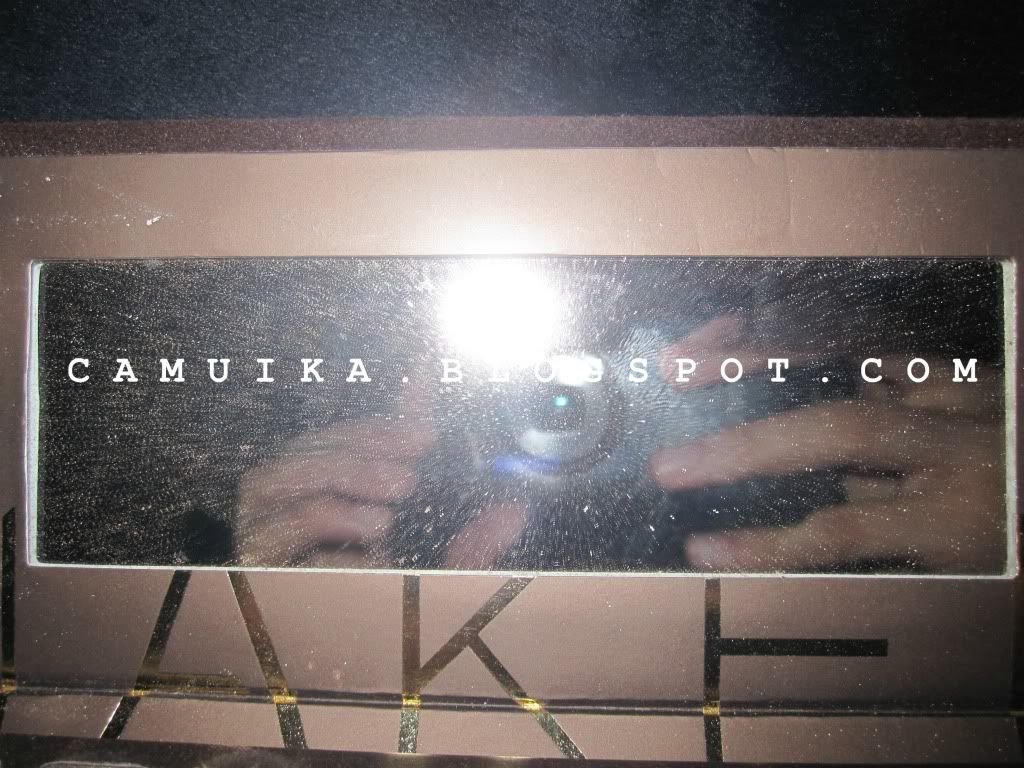 If your UD palette came with a plastic protective sheet
LARGER than the size of the mirror, it is a fake.
I tore mine out before doing this post, sorry!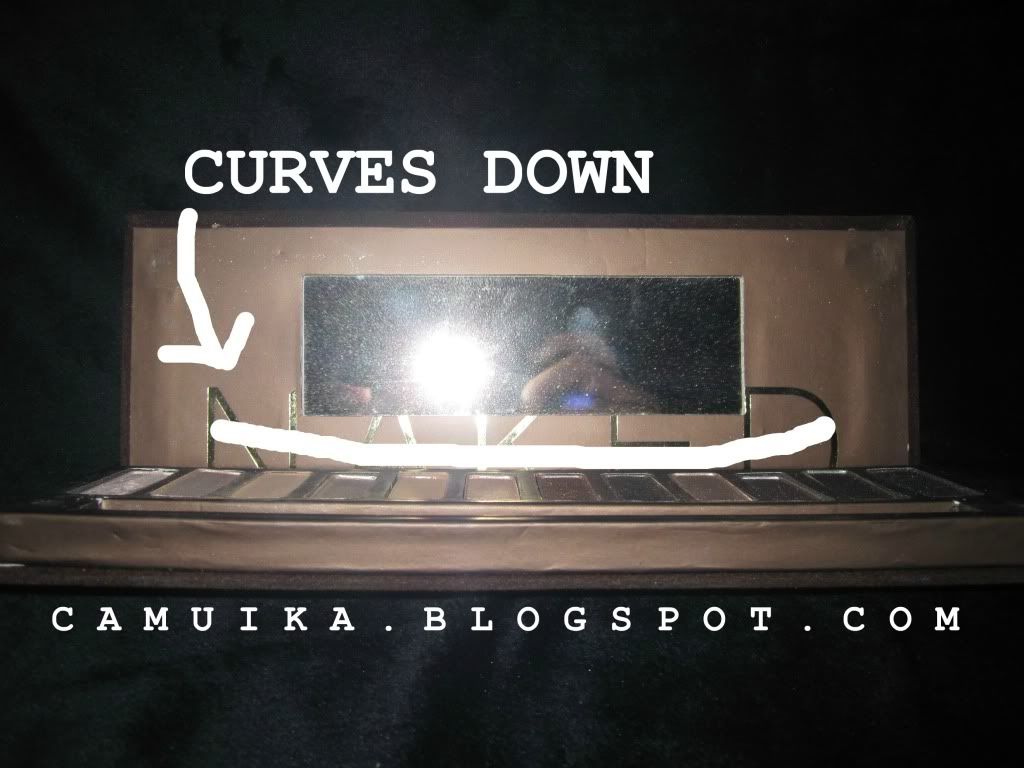 Fake UD palette tends to curve down at the centre.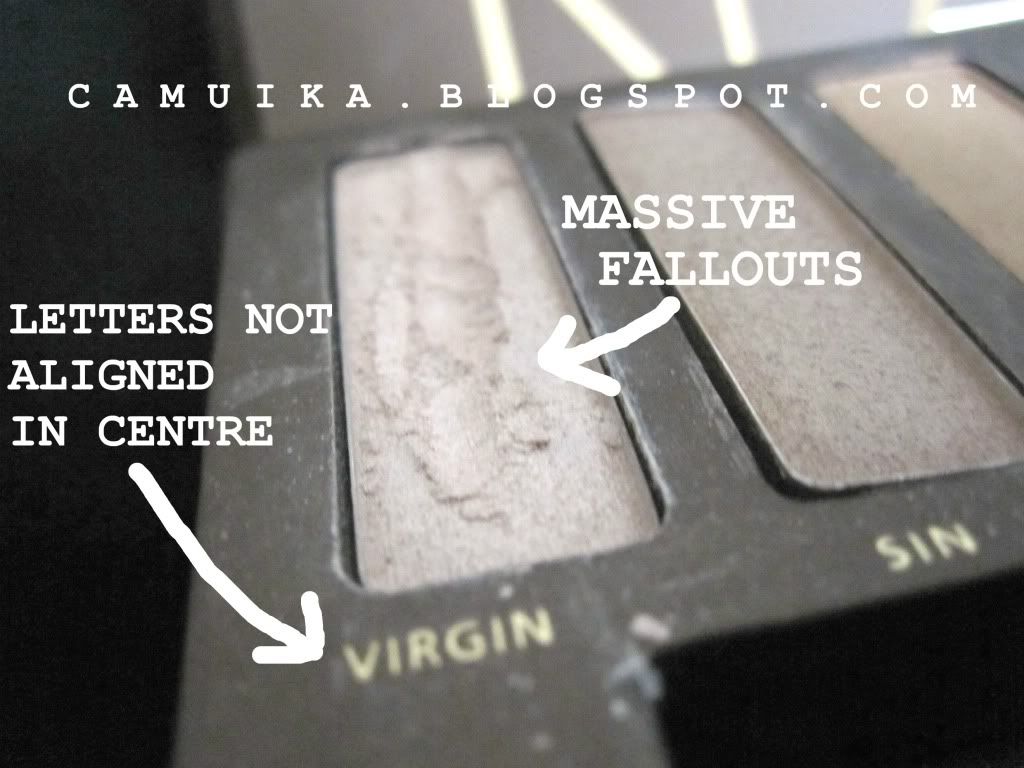 For the fake UD palettes,
the titles start even before the pans do.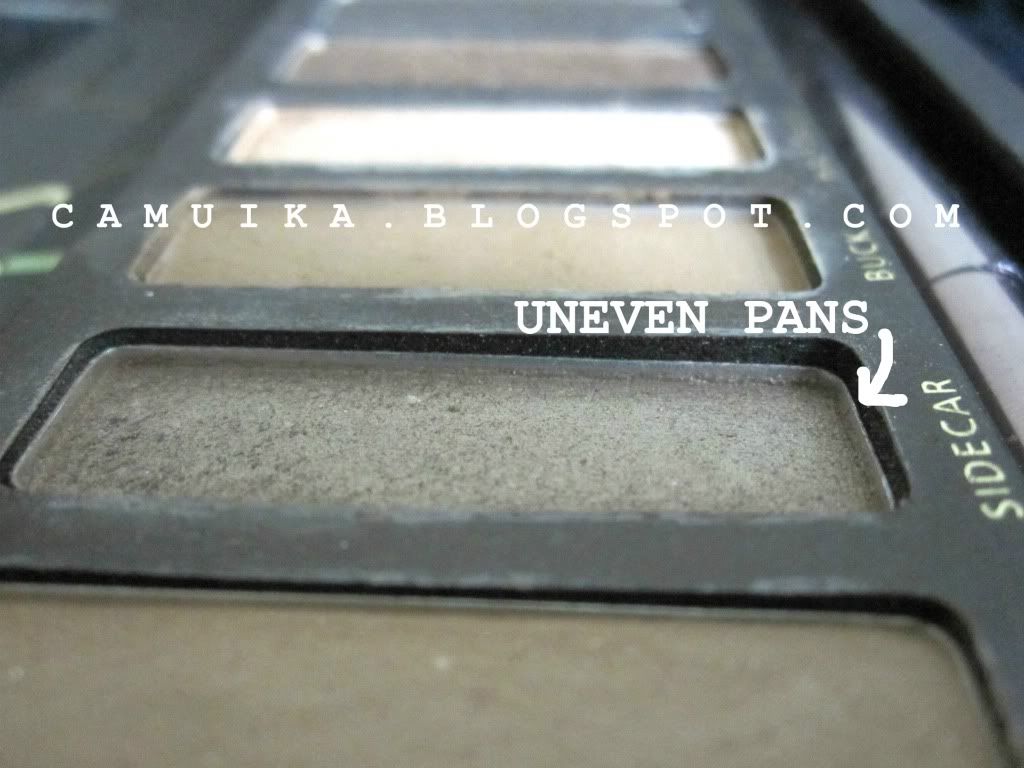 Very uneven pans too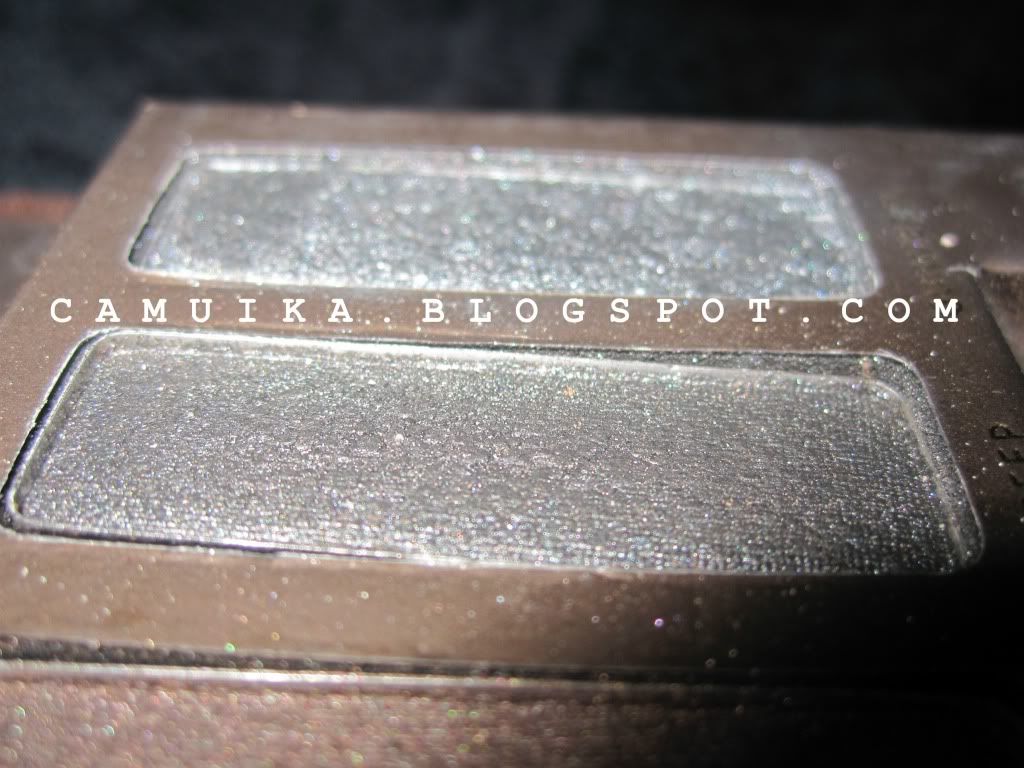 Creep and sidecar were filled very shallowly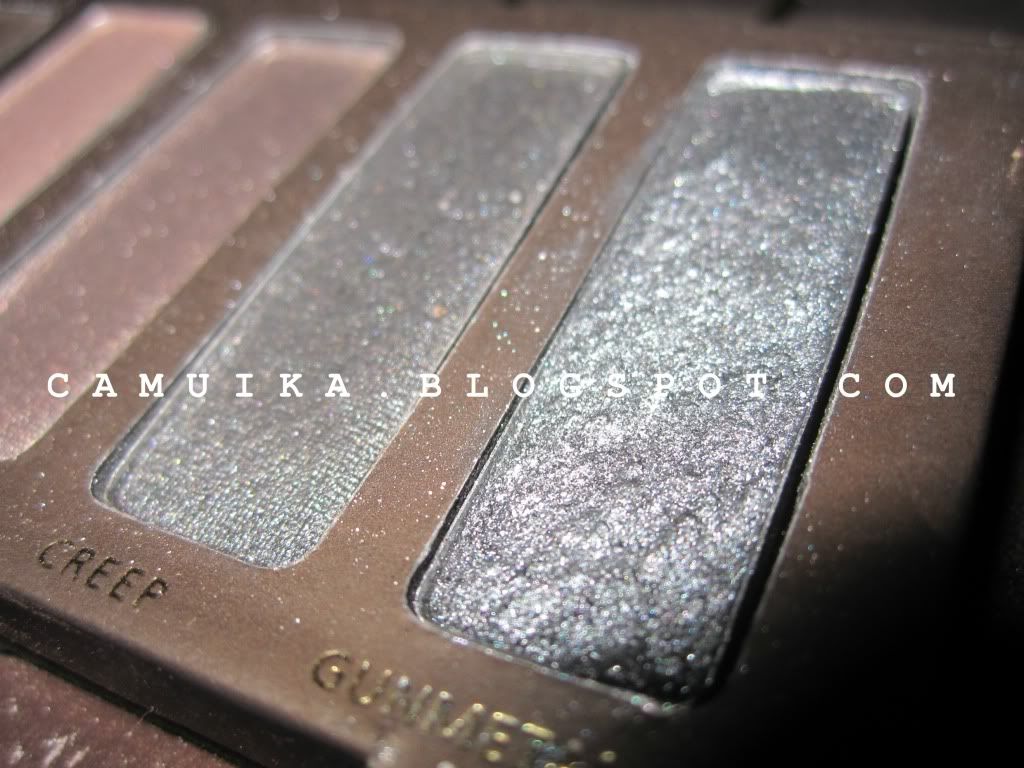 While gunmetal was the fullest. Note these are all the fakes.
The one that really gave it away was Dark Horse.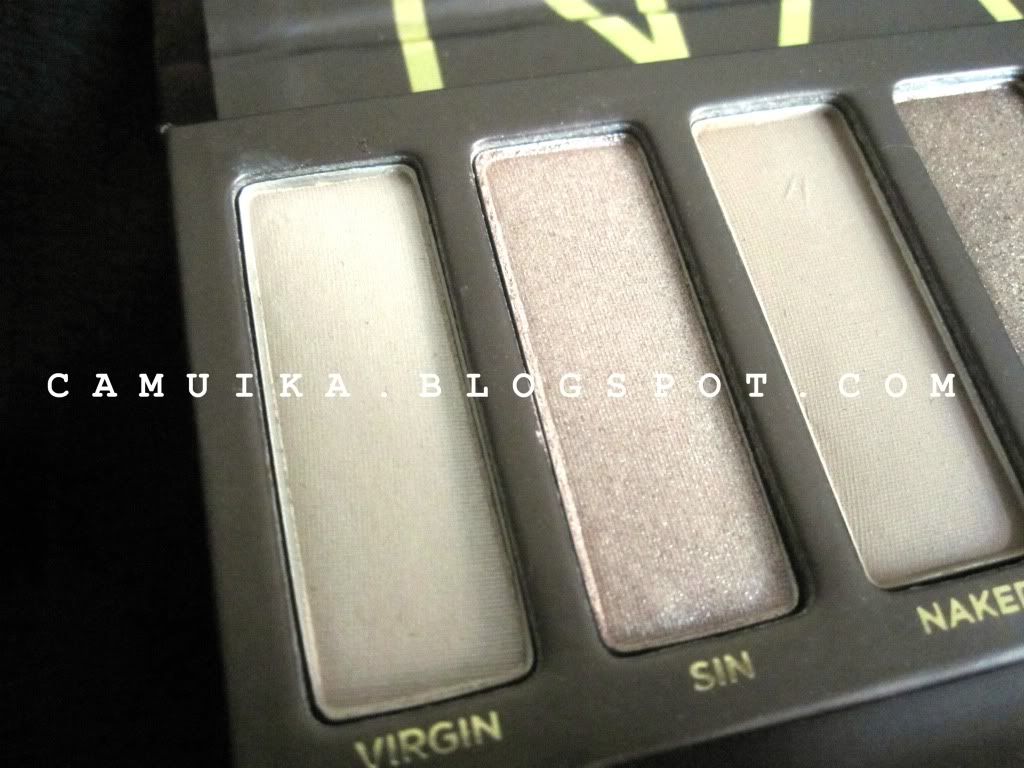 Real UD palette's pans are filled equally and wording starts from centre.
However, i noticed that there has been some
manufacturing problem in the Naked 2 i saw at sephora.
It looks more like a fake palette to me
than a real one because of the uneven pans.
Real UD palette.
Fake UD brushes's font is in black, while the real one is in blue.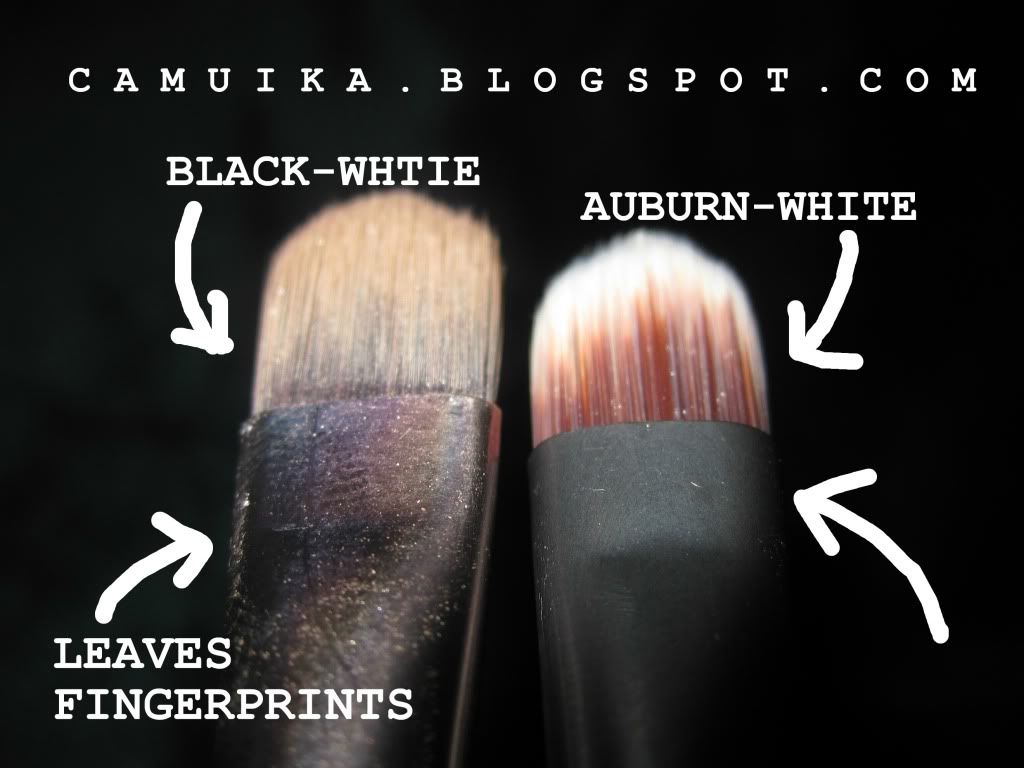 You can easily leave fingerprints on the fake UD brush.
Also, the bristles are black-white while the real one is aurbun-white.
Fake UD brush is more of a rose-pinkish colour, and is also very light.
Real UD brush has more weight, and has a gunmetal colour.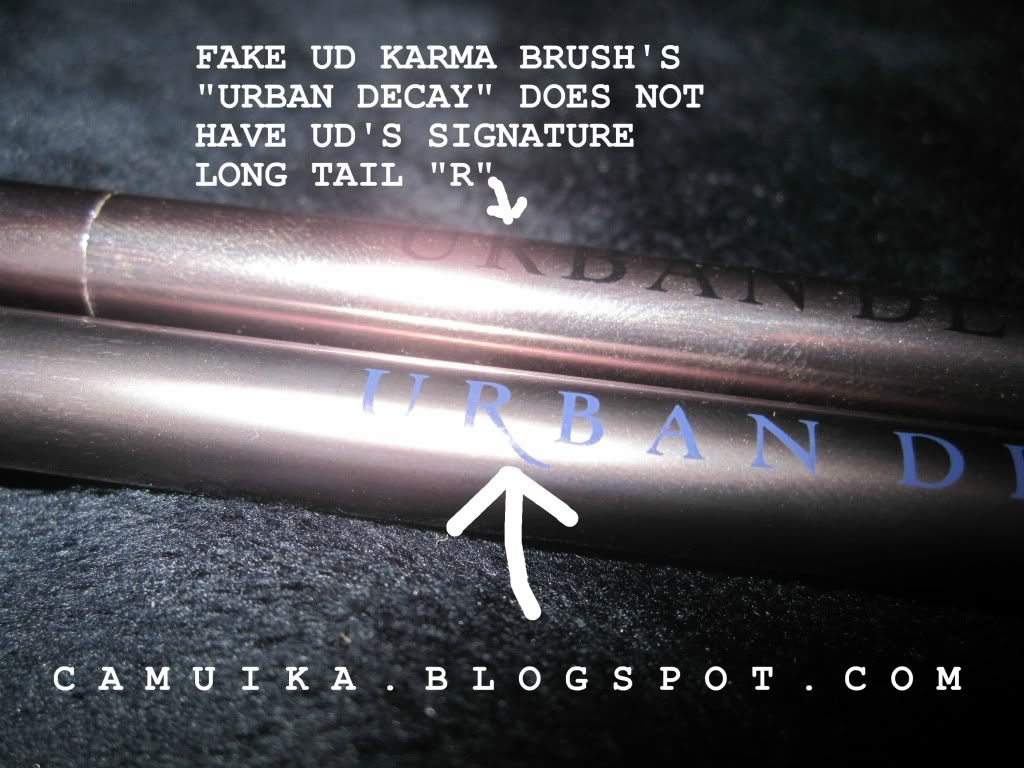 The most obvious giveaway of a fake brush.
Note the pigmentation of virgin and the fallouts of gunmetal.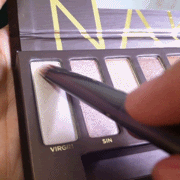 Real Urban Decay is amazing.
Real UD.
So... just a little word of caution!
Especially with the release of Naked 2,
many people out there are trying to pass off these
Naked 1 (very) lookalikes at a price almost close to the original.
It would definitely be best paying a little bit more and
purchasing from Sephora or Urban Decay just to keep your mind at ease!
Also, Fake Naked 2 has come out!
But only in the copper box, so that's the best giveaway
when a seller states that it doesn't come with the lip junkie.
The naked 2 fakes haven't upgraded to a lookalike!
Here's how they currently look like:
Guess one giveaway is how frayed the fake brush is!
I wouldn't be purchasing the Naked 2 (or fake Naked 2)
because i prefer original naked palette.
The colours are easier to work with, and as my mom said for naked 2,
the shades are either too light or too dark.
Besides, i feel that the quality of the naked 2 palette is
not really up to my standard when i saw and tried it out at Sephora.
Pans are really uneven!
Love, Zaneta